The fundamentals of fire protection
As of 27 February 2015, new rules apply for fire protection in France to ensure the presence of fire water supply points across the country. These new rules ensure fire services will have the volume of water required. This water must be accessible at all times and in a single location to facilitate the work of firefighters.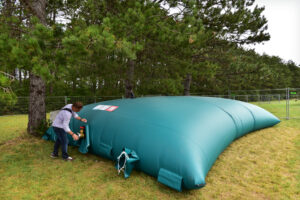 Why use a flexible tank?
To provide access to a reserve of clean water
As the mains network and natural waterpoints do not cover all zones, nor the needs and constraints of the fire services, flexible tanks are the most appropriate solution.
Flexible tanks can also be used as a storage relay during forest fire protection manoeuvres. This storage system is also able to meet fire protection needs in urban and industrial zones.
For temporary wastewater storage
As preserving the environment is one of our central goals, we offer flexible tanks to meet buffer storage needs for the treatment of wastewater, sludge and industrial effluent.
A reliable, high-quality fire safety solution
To provide you with the safest fire solution possible, we trust in the sector's pioneer Labaronne Citaf.
This means the flexible tanks we provide are certified Afnor NF S62-250, guaranteeing the quality, reliability and performance of the product, and QB certification (building quality).
Waterlab's additional service
We offer a turnkey, bespoke service for the installation of our flexible tanks. This service includes equipment rental, installation and maintenance.
As experts in the field of temporary water distribution, we know how to quickly set up water storage solutions when no supply is available from the immediate surroundings (such as fire hydrants).